The Personality Radar allows you to make the next steps into understanding what your respondents have in common and how you can use this in your research. It helps you have a clearer understanding of why exactly a respondent gave their answers the way they did. It is an extremely helpful tool in understanding your target audience.
Access to your Personality Radar is located on the top right side of your Stats page. When you click this button, it will direct you to a new page.

Your Personality Radar includes a custom pie chart for each question in your survey. You will notice the full question at the top of the screen as well as each answer choice surrounding the outer rim of the circle.
Each answer choice includes a number of bubbles in each "slice" of the chart. These bubbles represent specific consumer traits that are represented within each respondent.
You can hover each of these bubbles to see which trait it represents. The larger the bubble, the more respondents identify with that particular trait. The bubbles located more towards the center of the circle are more universally represented throughout each answer choice.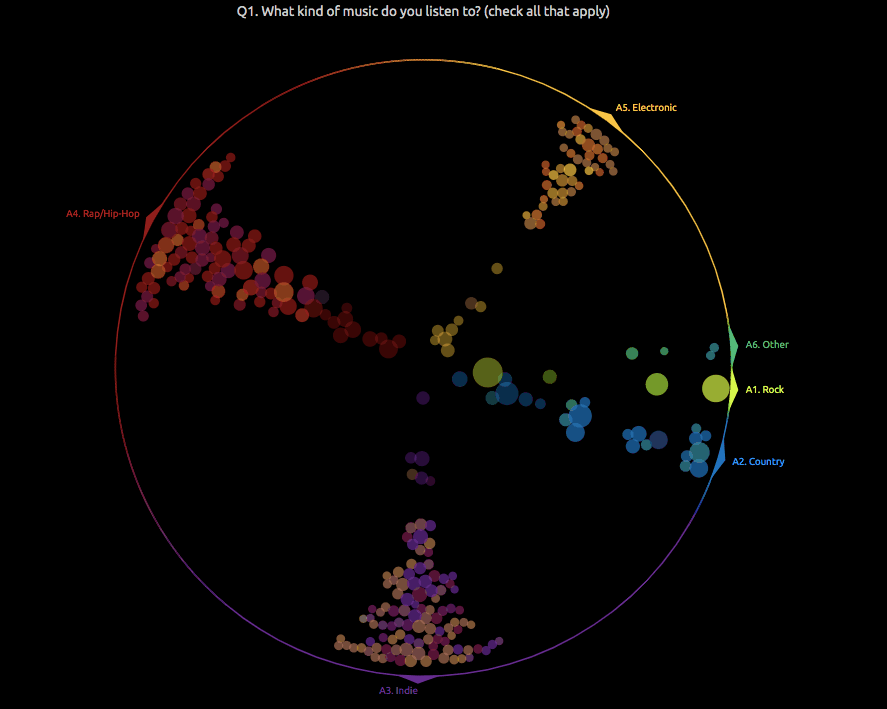 You can customize the look and size of each trait bubble through the View Mode tab on the left side of the Personality Radar.
You can control the following display choices:
Jitter: how close each bubble is compared to the others in their category (do they overlap or are they spaced apart?)
Scale: size of each bubble
Contrast: do the bubbles occupy the whole pie graph or do they stay within their slice?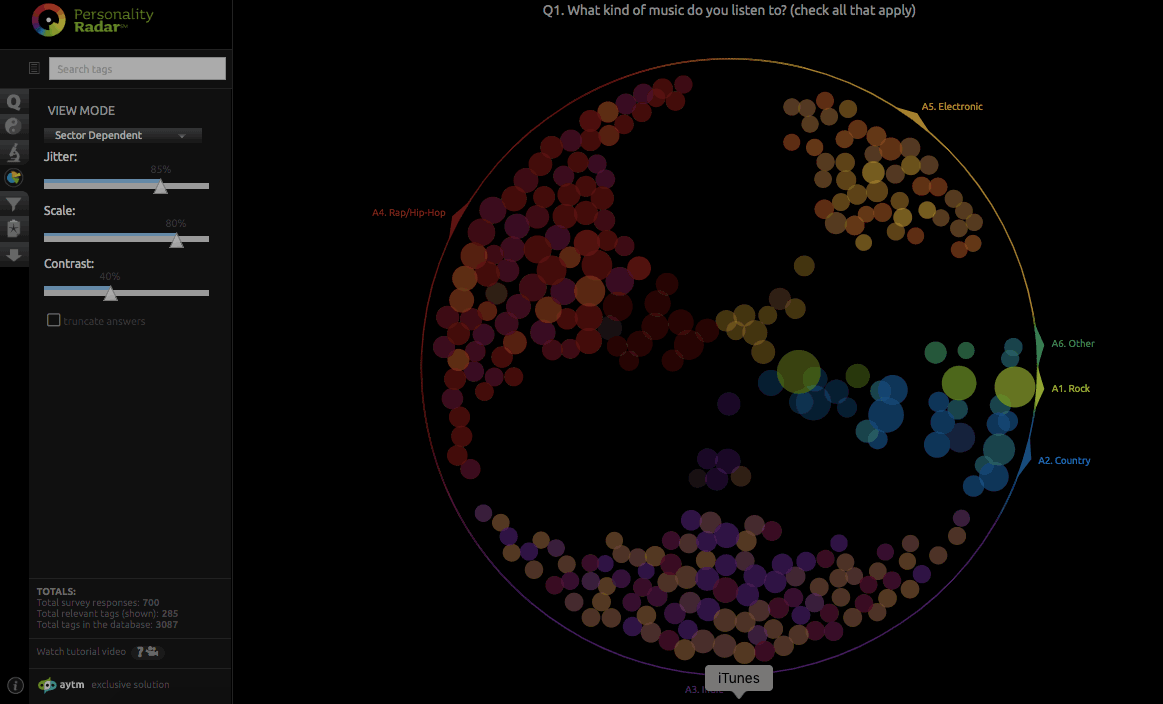 In the Filters tab, you can select specific consumer traits to view according to categories we have previously screened to respondents. For example, you can check off all categories pertaining to Media such as Brand awareness, Digital life, Gadgets & Devices, etc. to see the purchasing activities of respondents.


You can find a downloadable copy of your Personality Radar in the Export tab. We offer PNG, PDF, and EPS files.


Personality Radars can be a great research tool for finding out the consumer traits and habits of your respondents outside of the standard demographic questions we ask. It is a small peek inside of the mind of your respondents that will help you see what other products and activities they might be interested in.

If you have any additional questions please reach out to support@aytm.com or click the chat bubble at the bottom right to start a conversation. We look forward to hearing from you!