Viewing Partial Completes
When running a List Survey here with aytm we give you the ability to collect partial survey completes from your respondents and include them in the data if desired. Partial completes are when someone clicks on a List Survey link but doesn't not complete the survey and drops out or closes the survey.
In order to collect and view completes you will need to activate the option when you checkout. On the launch page make sure this option is enabled.

Once your survey is live and you will be able to access your statistics page and watch the data roll in live. As a default the statistics page will only show full completes. To add partial completes to the mix you will just need to activate it from the "Filter By Completes" tab on the left of the page.
To add partial completes just select the option from the menu.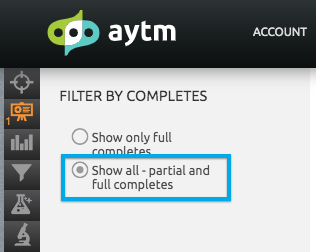 If you have any additional questions please reach out to support@aytm.com or click the chat bubble at the bottom right to start a conversation. We look forward to hearing from you!