List Survey: Demographics
When you run a survey to your own list of respondents you will not be provided with demographic traits like you would with an AYTM Panel Survey. However, we've made acquiring this information super simple!
Activate Demographics
When on the Target Market page of a List Survey you will see toggles presented for each demographic we offer. Move the toggle to "ASK" on the demographic traits you would like to collect and our platform will activate pre-written questions to be included in your survey.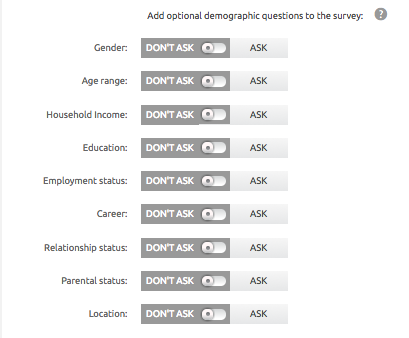 You can choose to either begin the survey with demographic questions or append the questions to the end of your survey. Choose the option you would like at the bottom of the Target Market Page.

Note: These stock demographic questions can not be edited. If you need a more custom question keep the toggle at "don't ask" and add your own question in the body of the survey.
Results
Any demographics that are set to "ask" will be available in your survey results under the filters section. They will also be included in your survey data exports. If you add your own custom demographic questions they will populate in the body of your survey. You can still filter and export the data, they will be listed in the Answer section of your filters instead of demographics.