Adding Custom Prequalification Questions
You may add custom prequalification (screener) questions when you do not see a house tag that represents your topic.

You will first click on the "+" icon next to "Add Prequalification Question".
Then select "Add custom".
You will be prompted to add your unique custom question on the following survey editor page.
Once on the survey editor page, you will be able to type in your custom question and answers.

You will have 3 question type options to choose from; you can access these options by clicking on the question type icon next to the question number. A single choice, multiple positive checkbox, as well as a multiple negative checkbox.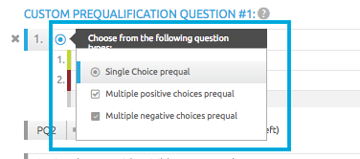 Additional Resources