We offer two ways to implement demographic quotas for your survey, Quota Balancing (US Census) or Quota Groups.
Quota Balancing
Balance your survey by the US Census in non-nested quota groups on up to six demographics: gender, age, household income, relationship status, location or ethnicity. To activate click the drop-down under Demographic Quotas and select Quota balancing from the list.
Quota Balancing works to balance your survey on the demographics selected at the total level, in a non-nested way that doesn't control how these traits interact with each other. It will try to achieve the percentages listed within an acceptable tolerance for each trait individually.

Quota Balancing has minimum sample requirements depending on how many demographics you want to balance:
| | |
| --- | --- |
| Number of Demographics | Sample Size (N) |
| 2 - 3 | 400 |
| 4 - 5 | 800 |
| 5 - 6 | 1,000 |
Note: To use Quota Balancing you need a minimum of two demographics. If you only want to balance on one demographic use the Quota Groups.
Important Considerations
Quota Balancing requires a minimum of 400 respondents and can only be used when fielding surveys to US respondents.
Quota Balancing should only be used on surveys in which your target market reflects the US Census, and has an incidence rate above 75%.
To achieve the best fallout we recommend waiting until the survey completes to clean open-ended responses. You can wait until the survey completes to remove/reject and the survey will replace them automatically.
If you are looking for something more custom or exact balance in the intersection of demographic traits you will need to use Quota Groups.
Quota Groups
This feature allows you to create custom demographic quota groups based on the traits offered. It also includes a list of US Census presets to add quota groups based on US Census breakouts quickly. To quickly populate groups based on the US Census, click on the drop-down (see below) and select the demographic trait or trait combination to populate the group(s).
To create a custom quota group, click on the Edit button on Quota Group #1 to open the available demographic traits to select your filters. You can create new groups by cloning an existing group or clicking the Add button.
Once you have set up all your groups with your targeting criteria, you will want to set the number or percentage of completes you wish to collect. We have two options: % or N.
Percentage (%)
This option allows you to input a percentage of the total sample size set. As you change each percentage, it will pin the group and recalculate the rest of your groups equally between the remaining respondents.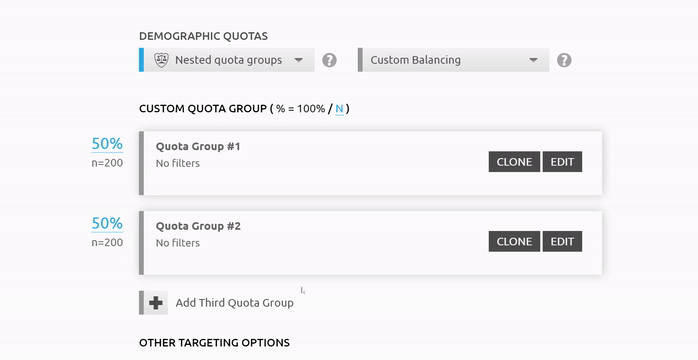 Number (N)
Switching to N will allow you to enter the exact number of respondents you need for each quota group, and the total sample size will increase to match your group settings.
Pro Tip: Quota Groups are not limited to the United States. You can create custom quota groups for any of the countries and it's included traits offered on the Target Market page!
Please note this set of features only creates quotas on demographic traits. If you need to set a quota on a question in your survey, please reach out to chat or support@aytm.com for assistance.