Progressive Matrix Questions
The progressive matrix question type allows you to organize groups of items that can be answered on the same answer set or scale in a grid and set either a single choice (radio button) or multi-choice (checkbox).
Progressive Matrix focuses respondents' attention on one column or one row at a time, a process we call progressive flow. After selections are made for this manageable cluster of answer options, respondents can move on to the next column or row, depending on how you set it up, and choose among the same answer choices for the next item on the list.

Watch this short video or keep reading for more information.
Build
To insert a progressive matrix question, simply drag and drop the corresponding icon from the sidebar into the survey editor. When you add a progressive matrix question, we'll start you off with two matrix sub-questions and three matrix answer options. Feel free to add sub-questions and answer options.
To delete sub-questions or answer options, hover next to the sub-question or answer option number and click the red "x" that appears.
Answers can include options such as "Other, please specify," with an optional open-ended field, and "Not Applicable" or "N/A," when it's set to checkboxes.

You can change the order in which items in each list appear for each respondent by clicking on the randomize checkbox. Even with randomization selected, you can still anchor scales in place. Simply activate the anchor icon adjacent to the desired scale.
The default orientation of this question--answers by column-- is a grid with your sub-questions on the left in a list from top to bottom, and the answer set on the top of the grid, from left to right. You can easily reverse this orientation by selecting "answers in rows" instead, which will swap the orientation for your respondents. Note: it's important to keep the answers programmed in the bottom part of the question and the sub-question entities in the top for analysis.

When progressive flow is on, you can also set up the 'minimum required' and 'maximum allowed' number of checkboxes. Simply locate the two dropdown menus below the matrix answer options in the survey editor.

If you want to allow single choices (radio buttons) instead of multiple choices (checkboxes) you can change that, too.
Respondent View
Respondents will see all sub-questions, but focus on one row at a time. The next button won't activate until they complete each row or meet the min/max settings applied.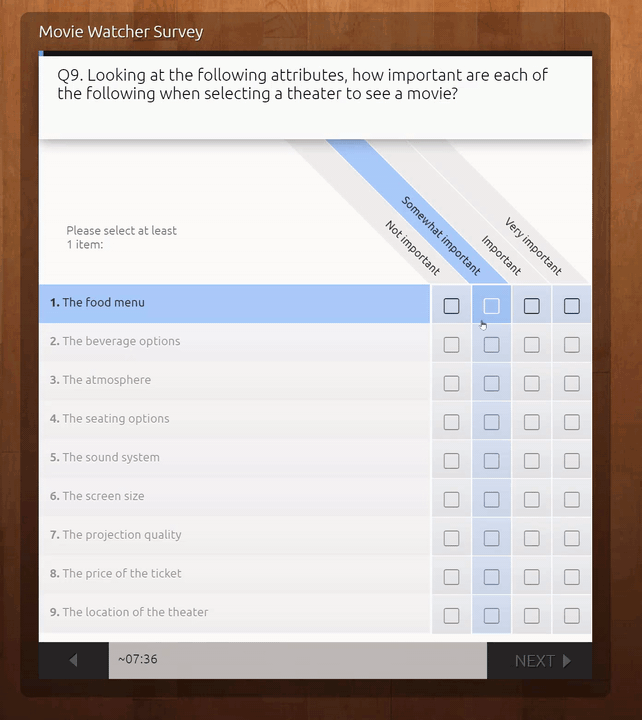 Respondent View Mode: Split by Pages
You can also split matrix across pages based on the survey-taker's device by checking the boxes here. This is done by default for any respondent taking the survey on a mobile device. To enable that for respondents on laptop or desktop click on the checkbox "PC".
This means that each sub-question will be shown on a separate screen, like this.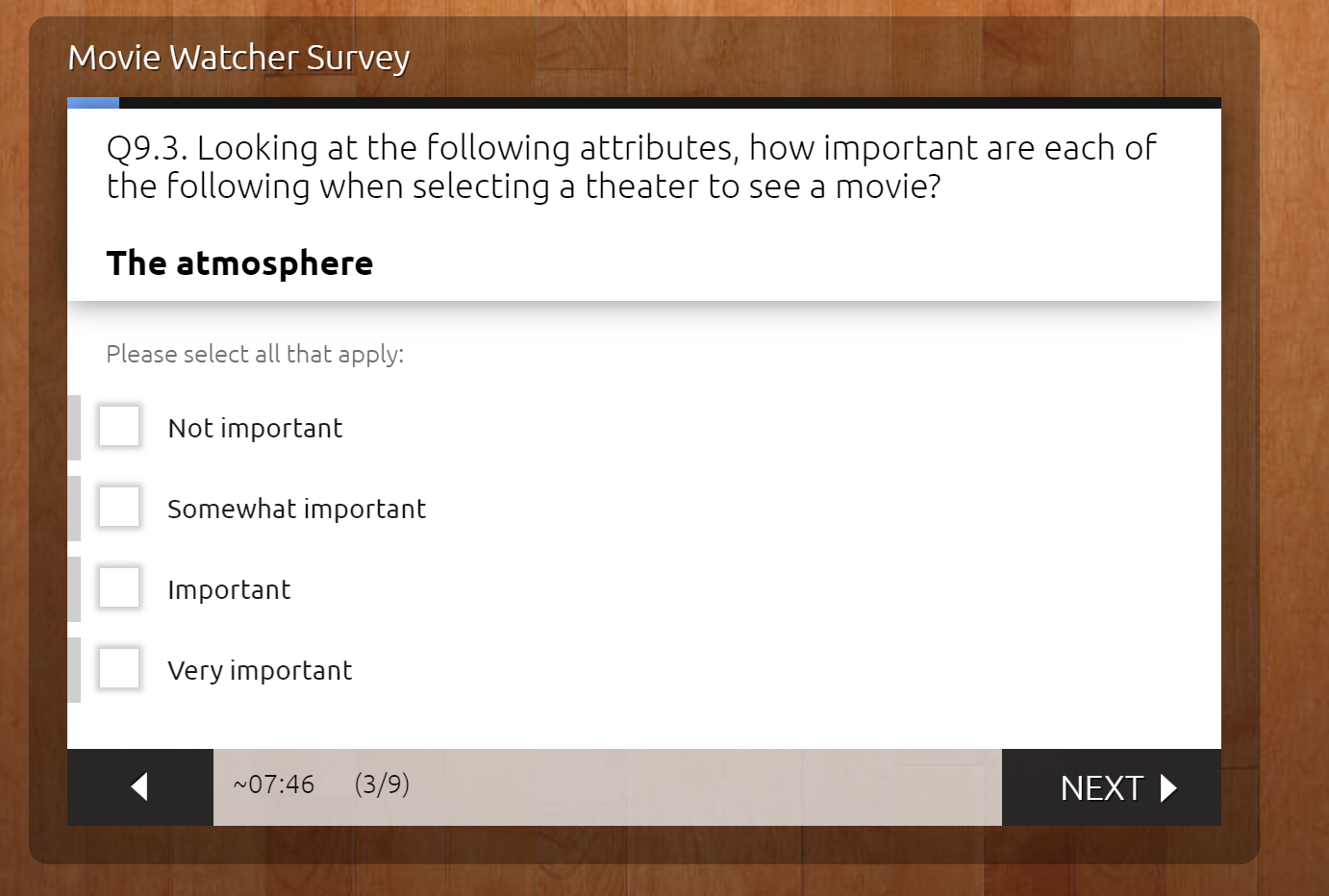 Analyze
Take a test drive on real-world results for this question type! Explore a live demo report.