Data Lab & Virtual Questions
Data Lab allows you to step beyond the survey structure as it was fielded by adding Virtual Questions (VQ).
VQs can be used to aggregate responses given on the same or different questions of a survey, create custom demographic splits, combine top 2 box and more! VQs can be added anywhere in the survey and move them by simply dragging and dropping like you would a question in the Survey Editor.
VQs will function similarly to normal questions - you can filter, export and use them with Crosstab or Sig Testing. VQs will be instantly saved locally in your browser as you create them. To save them on the server and share with others create a shareable Reports.

Watch this video (~6 minutes) or keep reading to learn how to add a Virtual Question to your report!
Adding a VQ to Your Survey
Step 1: Drag and Drop
Find the Data Lab tab from the left menu of your stats page. You can then "drag and drop" the VQ into your survey data.
A Virtual Question can be added in at any point in your data no matter what questions they are pulling from.
Step 2: Adding a Name
If you would like to give your VQ a unique title click on the pencil icon at the top right at anytime to edit.
Step 3: Selecting from the Questions/Answers

You can create a VQ from demographic traits and almost any question in your survey. Each line (A1, A2, etc.) will create a new column in your chart. Click the drop-down to scroll through available demographic traits, questions and answers.
For this example, we wanted to compare people who responded "very often" or "often" to Q5: "How often to you go to the movie theater?"  to people who responded "yes" to Q6: "Are you currently subscribed to a movie theater club?" 

Select these criteria from the drop-downs, assign a label to each criteria, then click "Generate the Chart" and watch the custom chart populate in just a few moments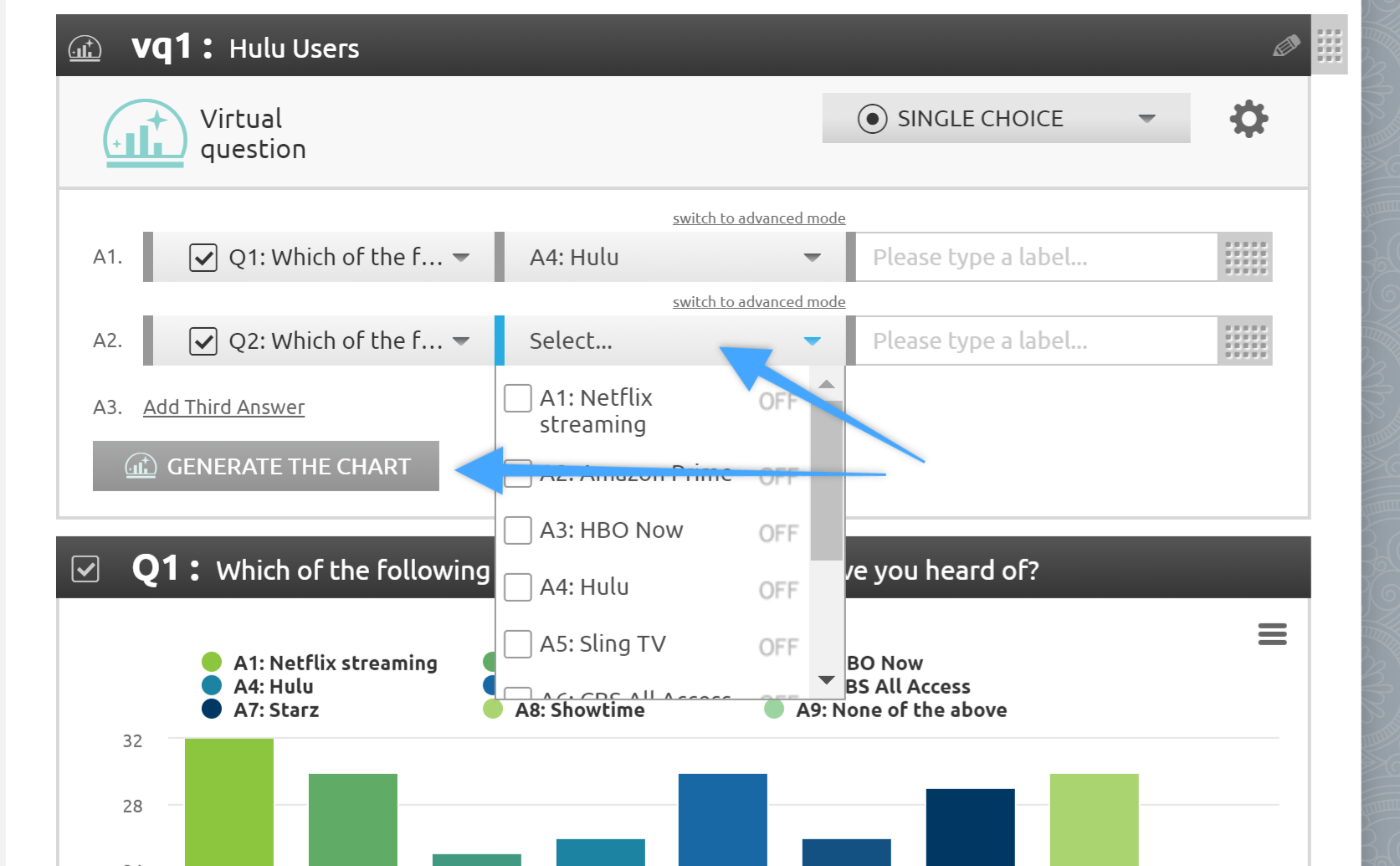 After generating the chart, the VQ becomes an active part of your survey data exactly like any other question, VQs are available for use in filtering the rest of the survey data, exports, and even using them to create a custom banner for Crosstab Analysis (microscope icon).
Make sure to save your Virtual Question work as a new report or "save as" to your current custom report! You'll be able to share it with colleagues or access it yourself at a later time. Click the link below if you need to find out how to save a custom report.
If you are looking for other custom settings for Virtual Questions check out these other articles: