Filter Data Results - Advanced Mode
Have you ever needed to filter a custom age range or filter checkbox (multi choice) questions by "or" instead of "and"? The aytm stats page provides an advanced mode if you need a custom filter utilizing aytm Logic syntax.

Let's start with a custom age range! The stats page will allow you to filter by: 13-17, 18-24, 25-34, 35-44, 45-54, 55-64 and 65+ - but we want to filter 21-42. This age range covers a few of the breakouts but it also includes ages we don't want to see. Starting with age filter select all the ranges you need for your custom filter, 18-24, 25-34 and 35-44. Once you selected the filters look at the top and click on "advanced mode". By selecting the ages first the system will show you the logic required and makes it easier to create the custom filter.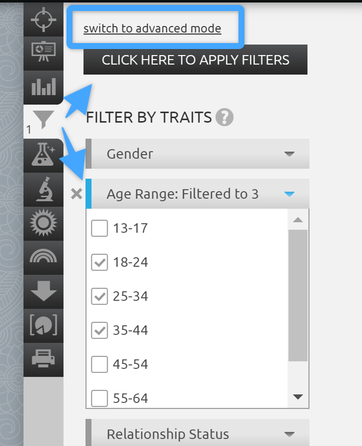 Once you navigate to the advanced mode you can adjust the aytm Logic syntax to filter to the age range you want, 21-42. Similar to using logic in the Survey Editor the system will give an error if you enter a logic string that is not valid, otherwise if the logic string is valid the text box will be blue.
Once you make the edits you need to the logic string, in this case we adjusted 18 to 21 and 44 to 42, click to apply the filters. At this point to save your custom filter you might want to make a new report.

You can use this method to create any custom filter for your survey data! Don't hesitate to reach out with any specific use cases you might need help with.