Aytm's Question Library serves a few purposes to help you build your survey. Save questions or sets of questions and build a library of frequently used questions to streamline future survey programming. You can also use the Question Library to quickly replicate groups of questions or re-order multiple questions in your survey questions. The Question Library is stocked with questions and snippets curated by the AYTM team. Look for our pre-built questions and easily drag and drop them into your survey.
Open the Question Library
Activate the Library by clicking on the icon, select questions using the checkbox to the left of the survey question numbers. Clicking on questions adds them to the waiting room of the Library indicated at the top right of your screen.
Save questions to the library
You can then drag and drop them into the library to save for future surveys. You will be prompted to name the question or questions, which are called snippets, and provide an optional description. If you are on a team account you can select if the snippet will be visible to only you or the entire team.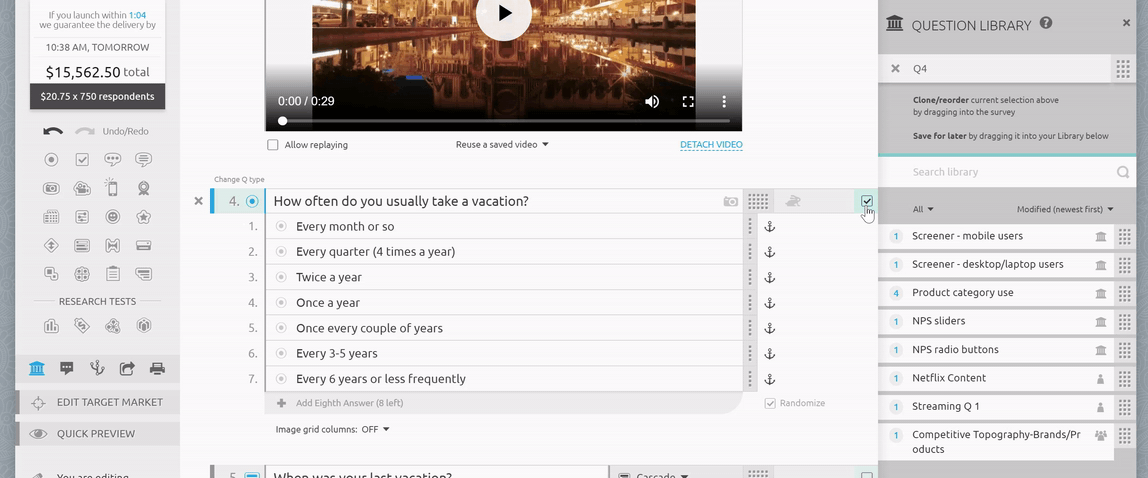 These questions are now saved to your Question Library and you can now utilize these questions on any future survey.
Re-order or replicate questions
In addition to saving questions for future surveys you can use the Question Library to replicate groups of questions quickly and easily. Simply click on all the questions in a particular group and then you can drag, clone, and drop the entire set of questions to a different part of your survey.
To move questions, grab the grey tab to the right of the question set and to clone or replicate questions hold down the shift key as you drag and drop.
Pre-Qualification (screening) questions
You can save pre-qualification (screener) questions to the Library. If you want to retain the pre-qualification setup, you will have to drag and drop the question or set of questions above Q1 or directly into the pre-qualification section. Dropping anywhere else in the survey will convert any pre-qualification questions into regular survey questions.