Custom Prequalification (Screener)
We offer three types of custom prequalification (screener) questions.

Single Choice
This question will allow a respondent to select 1 answer choice and you can select the accept/disqualify on individual answer choices. After you type out your question click on the accept/disqualify to the right to adjust the setting.
Multiple Positive
This is a checkbox question or multiple choice question type. When you set an answer choice to accept the respondent will have to, at minimum, select that answer choice to enter the survey. The other answer choices will be listed as (-----), if they only select an answer with this designation they won't be allowed into the survey. Respondents can however select an "accept" and a (-----) to be admitted.
Multiple Negative
This is also a checkbox question multiple choice when you set an answer choice as reject, the respondent will be ejected from the survey if they select that answer choice (or any other). It works opposite of a multi-positive PQ, in if they select any answer set to disqualify they will be ejected from the survey.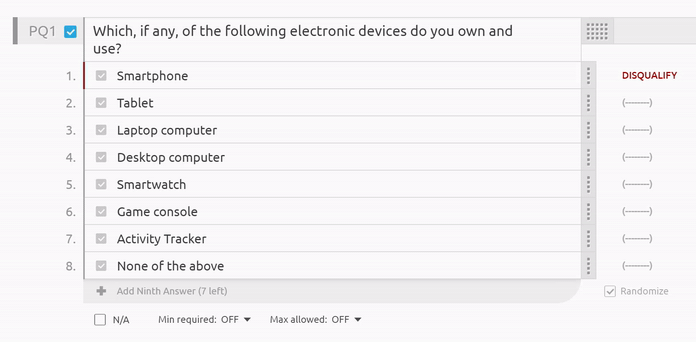 Note: With either the multi positive or negative checkbox pre-qualification questions you also have the option to add an exclusive answer choice by selecting the N/A checkbox. Activating this answer will add an exclusive answer line, you can adjust the "None of the Above" text.
Analyze
Take a test drive on real-world results for this question type! Explore a live demo report.
Additional Resources