Creating Custom Banners for Crosstab Reports with Data Lab
If you are using our CrossTab or Stat Significance analytical tool, you can generate a custom banner in addition to the default options that are provided.
Any Virtual Questions you create within your stats page will be available in the drop down and can be added as a banner.
Navigate to the Statistical Analysis icon and click on the "Add Banner" drop down. Then, scroll down to the bottom to see your Virtual Questions.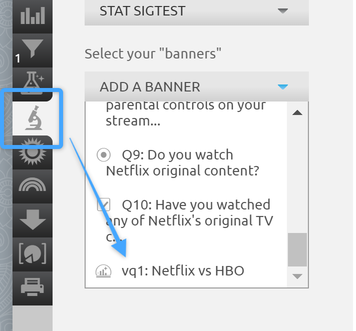 Please note where in your stats page you added a Virtual Question (i.e. before Q1 or between Q2 and Q3) as it could show in the order it was created within a report.
If you have additional questions about using our analytical tools, click the chat bubble at the bottom right or email us at support@aytm.com!