Change Chart Color Palette

Customize your data visualizations with a preset color scheme or create your own! To access click on the rainbow icon on the left side of your reports page.
Preset Color Palette
We offer several preset color palettes, click on any of them to update the charts in your report.
Choose a color scheme that you prefer and watch your charts come to life!
In any chart view!
Custom Color Palette
If you want to create a unique color scheme for your presentation create a custom color palette! You can add three unique color palettes to your report.
Copy
You can copy a pre-set color palette to edit. To the right of the last square in each color palette hover to see the copy button. Click to populate in the custom color section.
Add New
You can also create a color palette from scratch by clicking the add new button.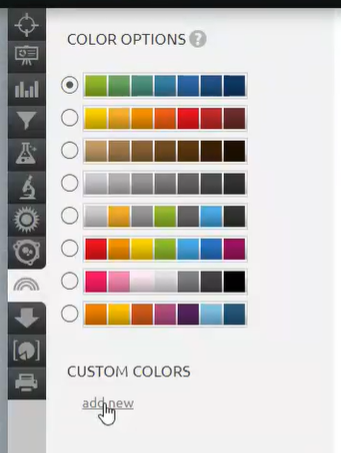 Create
Once a custom color palette is populated by copying or adding new you can click on each square to edit the color. Use the Color Picker or enter a Hex code.
We offer some pre-set color options, click on the first square to see the drop-down.
| | |
| --- | --- |
| Auto | random |
| Monochromatic | all the colors of a single hue |
| Complementary | mixed with the opposite hue |
| Zebra | split complementary, 2 opposite hues |
| Rainbow | every 30 degrees of color circle |
| Analogous | rainbow with different degree steps and shades |
Click the refresh icon to shuffle the colors or use the Color Picker to change the hue.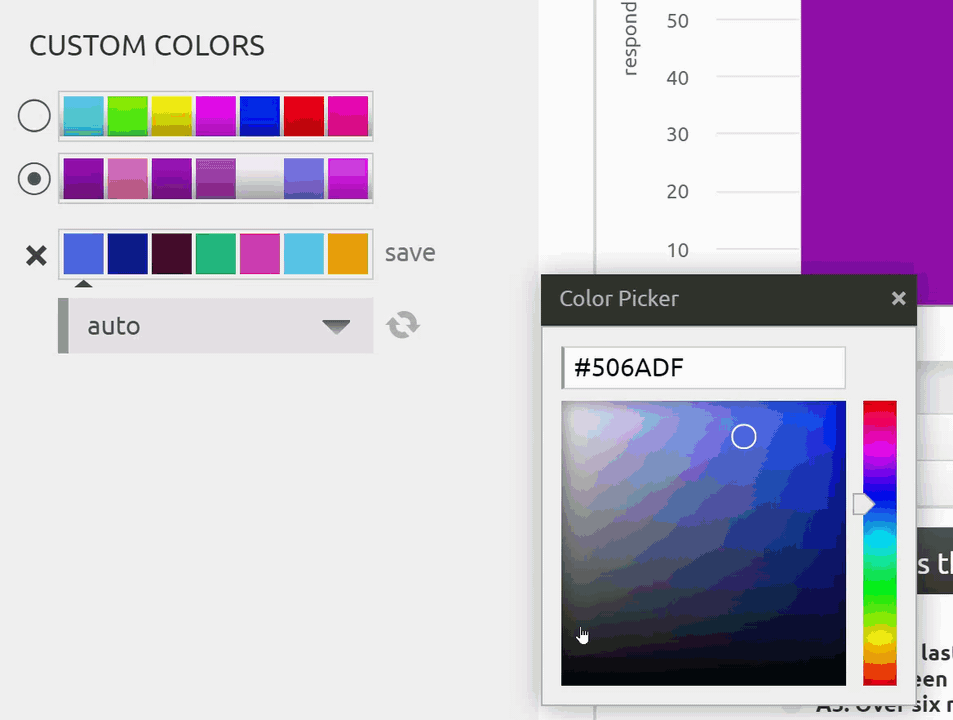 Once you finalize your custom color palette, click the save button. Once it's saved, the add new button will appear again to create your next custom color palette.
Edit or Delete
You can edit or delete custom color palettes once they have been saved. Click on the edit button to change any of the colors within a saved palette.
Click on the 'x' and 'delete forever' to delete the entire palette.