Xpert Solution: Kano Model
aytm's Xpert Solutions is the latest agile insights automation technology covering the entire cycle - from survey programming to reporting. Xpert Solutions allows you to break out of the limitations of "black box" survey templates while benefiting from the simplicity of a guided interface.
KANO MODEL
The Kano Model is a methodology for evaluating product features by assessing user satisfaction along both positive and negative dimensions: that is, how users feel if a feature is present (positive or "functional" dimension) and how they feel if a feature is absent (negative or "dysfunctional" dimension). Responses across both dimensions can be classified into six categories, which serve as a guide for feature prioritization.
Attractive features are features that are unexpected (their absence causes no dissatisfaction) but that, when present, are highly satisfying to users. Attractive features are often thought of as Exciters or Delighters.
Performance features are those that have a linear relationship with satisfaction. These are features that we think of as traditionally satisfying – the more they are present, the more satisfied users are and the more they are absent, the less satisfied the users are.
Must-Be features are those that are required or expected by users (i.e., their absence causes low satisfaction) but which contribute little to satisfaction beyond their mere (required) existence.
Indifferent features are features that have no real impact on satisfaction either way – whether they are present or absent.
Reverse features are features that users actively do not want. Their absence is desired, and it contributes to satisfaction, whereas their presence yields dissatisfaction. Reverse features are uncommon
Questionable features are those that receive conflicting responses, such as positively evaluating both the presence and absence of a feature. Such responses may indicate that there's something wrong with your questions or respondents' understanding of the feature.
aytm's Kano Xpert Solution allows you to test up to 20 features with an interactive report that allows you to toggle between 4 Kano analysis models.
Getting Started
From your aytm account Dashboard click on the Kano Model edit icon to open a new Input Page.

This will take you to the Input page of the Xpert Solution Kano Model Test template: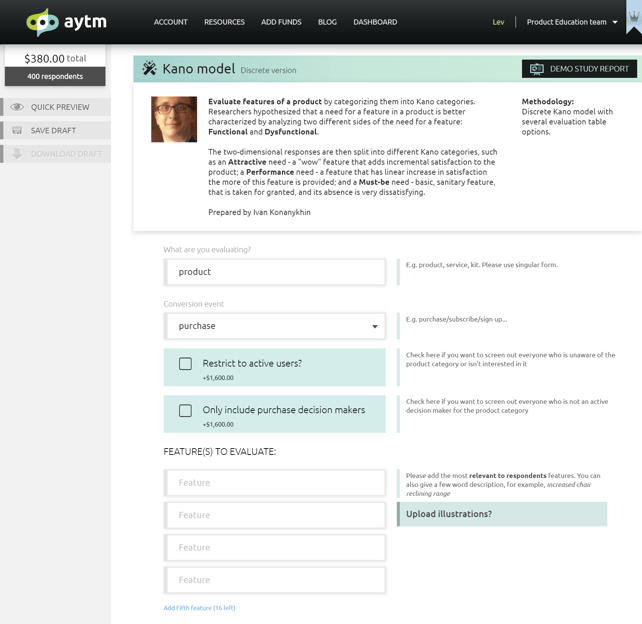 Building your Kano Model Xpert Solution
From the Input page of a Kano Xpert Solution, it's as simple as following the directions on the screen. We have built a templated format and will ask a few simple questions and build the survey based on your input.
We will ask you for information around the objectives, the category, and purchase type of the concept. This information helps build the automated key findings report, which we will discuss later.
You can choose to add screening criteria, if you have a standard set of screening questions, you will have the opportunity to customize custom pre-qualifications questions.
Customize & Launch your Kano Model Xpert Solution
Once you have entered all the information the Xpert Solution needs to build your Choice-Based Conjoint test you have a few options prior to launching
your survey,
Preview
Use aytm's Quick Preview to see how your survey will be presented to respondents and how the elements you entered on the Input page populate in the template.
Edit your targeting criteria
Click the Target Market button if you need to add demographic targeting or aytm House Tags.
Review & Edit your Survey
You can access the Survey Editor page to make customizations to your Xpert Solution: add custom pre-qualification questions or fine-tune text.
Note: making structural changes to the locked questions will break the Xpert template. You will be able to launch as a survey but will lose the automated Xpert Report functionality.
Checkout
Ready to launch! Confident that everything is ready to go? Click on the Checkout button and launch your survey.

Xpert Report: Kano Model
Once your survey is in the field, you will have access to the same robust reporting tools that are offered with every aytm survey and some upgraded features specific to Xpert Solutions. The default data report for Xpert Solutions will include a pre-built executive summary that includes objective, methodology and Kano analysis modeling. See a live example here.
Kano Models



You can export to Excel (summary) or PowerPoint while in the Xpert Report. If you would like to export to other file types (SPSS, JMP or CSV) or access the original statistics page, navigate to the "Original - as fielded" raw data report. You can switch between reports or create new reports.


Additional Resources