Xpert Solution: Choice-Based Conjoint
aytm's Xpert Solutions is the latest agile insights automation technology covering the entire cycle - from survey programming to reporting. Xpert Solutions allows you to break out of the limitations of "black box" survey templates while benefiting from the simplicity of a guided interface.
Choice-Based Conjoint
Need to measure the preference of product features? Use the Choice-Based Conjoint (CBC) Xpert Solution to learn how changes to features or price impact demand for products or services and be able to forecast how likely a product would be accepted as it is brought into the market. Explore how respondents value attributes and options within each attribute. Based on the utility values of each option, obtain an understanding of the most and the least desirable combination. Use our interactive Conjoint simulator to discover a range of optimal packages that satisfy your business objectives.
Methodology:
Choice-based Conjoint (CBC). A series of choice experiments, shown by following the experimental design sheet produced as a part of this study, will enable the Hierarchical Bayesian multinomial logistic model to explore and analyze the underlying preferences and priorities of each respondent in regard to the attributes and options. Aggregate and individual utility scores are delivered for custom modeling.
Getting Started
From your aytm account Dashboard click on the Conjoint Test edit icon to open a new Input Page.

This will take you to the Input page of the Xpert Solution Choice-Based Conjoint Test template: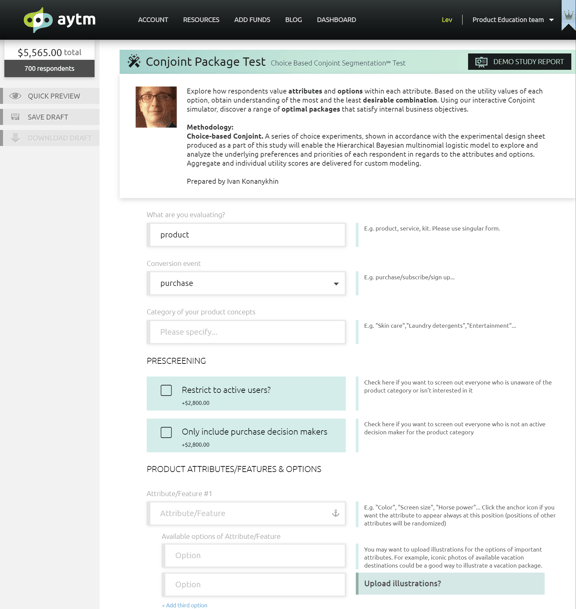 Building your Choice-Based Conjoint Xpert Solution
Once you have navigated to the input page for your Conjoint test, it's as simple as following the directions on the screen. We have built a templated format and will ask a few simple questions, then build the survey based on your input.
We will ask you for information around the objectives of your Conjoint test, the category, and the purchase type of the concept. This information helps build the automated key findings report, which we will discuss later.
Then we will ask for your screening criteria. If you have a standard set of screening questions, they can build as a branded custom Xpert Solution for you and your team.
You will also have the option to include a set of questions asking respondents about their media consumption habits and add in some qualitative feedback questions. We'll evaluate every concept on these attributes by asking respondents to rate them with a 5-star rating.
We provide commonly used attributes, but you can customize to your concepts, edit suggested, or add a few new ones. You will also have the option to include a set of questions to ask respondents about their media consumption habits and the opportunity to add in qualitative feedback questions.
Customize & Launch your Choice-Based Conjoint Xpert Solution
Once you have entered all the information the Xpert Solution needs to build your Choice-Based Conjoint test you have a few options prior to launching your survey.
Preview
Use aytm's Quick Preview to see how your survey will be presented to respondents and how the elements you entered on the Input page populate in the template.
Edit your targeting criteria
Click the Target Market button if you need to add demographic targeting or aytm House Tags.
Review & Edit your Survey
You can access the Survey Editor page to make customizations to your Xpert Solution: add custom pre-qualification questions or fine-tune text.
Note: making structural changes to the locked questions will break the Xpert template. You will be able to launch as a survey but will lose the automated Xpert Report functionality.
Checkout
Ready to launch! Confident that everything is ready to go? Click on the Checkout button and launch your survey.

Xpert Report: Choice-Based Conjoint (CBC)
Once your survey is in the field, you will have access to the same robust reporting tools that are offered with every aytm survey and some upgraded features specific to Xpert Solutions. The default data report for Xpert Solutions will include a pre-built executive summary that includes:
Objectives
Methodology
Conjoint Report
In addition to the executive summary, you will also have access to our Conjoint Segmentation Simulator, which allows you to discover a range of optimal packages and personas.
Use the Conjoint Segmentation simulator to toggle between the best and worst package or customize to a combination of your choice to see the impact. Packages selected can populate in the Market Simulator for further comparison.
To access the utility scores, click on the "Explore" option at the top to switch to the original - as fielded report.
You can export to Excel (summary) or PowerPoint while in the Xpert Report. If you would like to export to other file types (SPSS, JMP or CSV) or access the original statistics page, navigate to the "Original - as fielded" raw data report. You can switch between reports or create new reports. See a live example here!
Use this Xpert Solution as an out of the box solution, or reach out to us to customize an Xpert Solution for your team.