Tagging is a valuable way to organize responses to open-ended questions as it allows you to label and categorize insightful comments provided by respondents. Using tags can help you save time uncovering common themes present in your data set.
1. Accessing Tags
From the Stats page, click the "Comments" icon below the header or access it directly from an individual question.

Once the open-ended interface loads, the tag icon will be available in the left-hand sidebar.
---
2. Adding Tags
There are three ways to add tags to open-ended questions. First, you can build out your tag list in the column to the left of the comments.
Click Add a new tag to activate a text field.

Type your tag in the field.

Click Ok to save.
Your tags will begin to populate as a list containing both the name of the tag and number of times it has been assigned to a comment.
Second, you can add tags directly to a comment.
Locate and click the add a tag field within the comment box.

Type your tag in this field.

Press "Enter" to add the tag to both the selected comment and the list in the left-hand column.
Notice that this allows you to add tags both to comments and populate the list on the left-hand simultaneously.
Finally, you can add tags by dragging-and-dropping.
Drag a tag from the left-hand column and drop it directly on the drop-target any comment.
---
3. Removing Tags
Locate and click the small "x" that follows the label. This will remove the tag from the specific comment.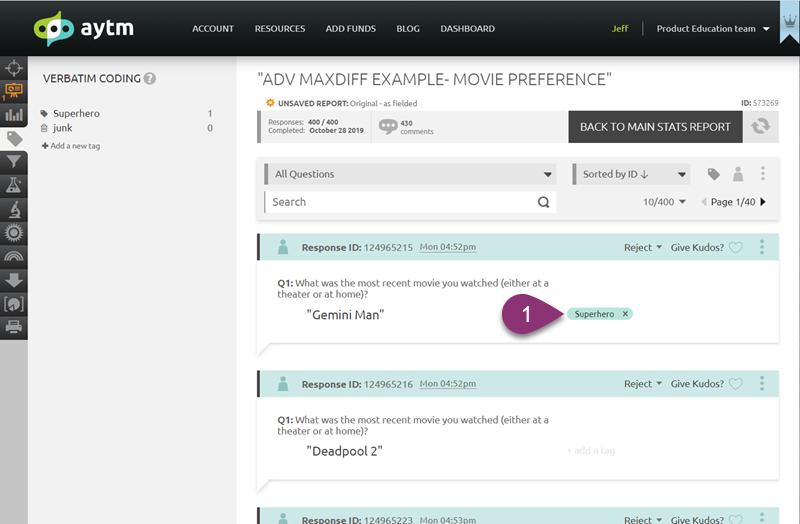 ---
4. Renaming Tags
Hover over the tag you would like to rename and illuminate the gear icon.

Click the icon to open the bulk actions menu.

Select the third option, Rename the tag. This will make the tag editable.
Once you have edited the tag, click Confirm update.
The updated tag will replace the original throughout the open-ended comments. This operation may take a moment depending on how often the tag was used.
---
5. Toggle Tags On / Off
Click on the tag icon in the search tool bar. This allows you to modify how the page is viewed depending on your preference.